The International TC was hold at 7-16 August 2019.
TC was focused on youth workers empowerment in terms of their knowledge of c/c-e and c/c-e education in particular. It has mixed a theoretical part about SE & c/c-e as concepts, NFE and informal activities on creative thinking and innovative ideas development, but also practical exercises on teaching c/c-e to NEETs. As a result of the TC, the youth workers achieved the base for transferring the knowledge on c/c-e to the NEETs from their countries that they will further develop in part with their youth worker colleagues during their job shadowing/fellowship in EU countries. 
The TC has participants (3 pax per organisation) from 10 country partners. Every country was represented by next organisations:
– Youth Association DRONI, Georgia
– Youth Education Centre "Fialta", Belarus
– ADVIT, Moldova
– Development center Pangeya, Ukraine
– PlanBe, Plan it Be it, Cyprus
– Geoclube – Associação Juvenil de Ciência, Portugal
– ASSOCIACIÓ CULTURAL TABALÀ, Spain
– CODEC vzw, Belgium
– Youth Mix, Armenia
– Associazione Connecting Europe, Italy
All the participants are bright personalities and at the same time youth workers, familiar with c/c-e and c/c-e education, and team member/s of the partner organization; with good good level of speaking and written English and elder then 18 y.o. As well participants should be available to take part in the whole duration of the project including TC in Moldova, Local labs, competition, 2 pax from Eastern Partnership Country for job shadowing, Seminar in Belgium, dissemination and valorization phases.
The training course has been based on the specific needs of the participants and partner organizations, and was highly participatory. Diversity, e.g. in the group of participants, were considered as a resource for the exchange and transfer of competences, as well as special attention is paid to the intercultural dimension of the project. The facilitators have taken care of creating a supportive learning environment, where participants were encouraged and coached while mastering challenges that contribute to their personal, professional and organizational development. The learning took place both on individual level as well as in synergistic group process.
During the TC were used different non – formal learning methods, for example, group, pair and individual discussions, brainstorming, buzz groups, debates, energizers, presentations, etc.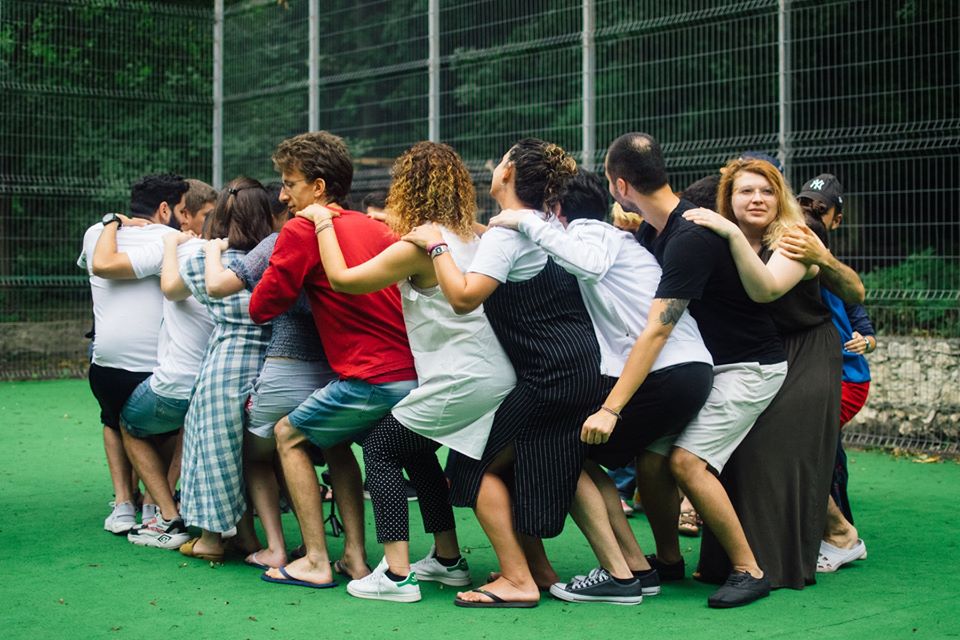 The TC was led by professional trainers and organisers.
Olesea Solpan – Fortuna (Trainer)
Olesea has a leading role in the education of startups in Moldova, being the President of GEN Moldova (Global Entrepreneurship Network).
She has been involved as a speaker, mentor, group coach, experimental trainer in projects focused on business development at both international and national levels. Her interests revolve around assisting entrepreneurs in creating, launching, developing national and international businesses and particularly in creative industries and sustainable business models.
Tudor Arnăut (Trainer)
Tudor is working as a journalist and a freelance trainer. Erasmus+ became a source of inspiration in his daily job.
"Networking with the people from around the world is the greatest thing what is happening to me.



Natalia Roelofs (project manager)
Natalia has been involved in youth field and non-formal youth work since 2004. She has a vast experience in planning and management of the EU Programmes (including Erasmus+, EYF, EuropeAids, Horizon 2020) and has Master degree in European Project Planning and Management. Since 2016 Natasha is member of JINT vzw (Flemish NA Belgium) trainers' pool and runs TEC trainings in Flanders, Belgium.




The TC was focused on getting a general idea about entrepreneurship, basics of linguistics around entrepreneurial education: differences between different types of entrepreneurship, who is an entrepreneur, common reason for entrepreneurial failure. The group explored the type of resources existent at the national level to help creative entrepreneurs develop ideas.
In order to get clarity about the different support entrepreneurs or wannabes can get, the group identified the stakeholder groups that play a vital role at the local level in transforming a business idea into a valid venture with growth potential. Also at different stages what are the roles and contributions of each stakeholder group. Also the interaction of the different stakeholder groups, ecosystem notions and how community driven initiatives can shape them.
Before coming to the project, participants received tasks for homework. They have prepared presentations about local hidden heritage and how they can use them for future business projects. Also they needed to identify the relevant hubs, centers, universities that can help them raising their business cultural or social projects. All 10 countries had to deliver these homework presentations.
The participants had a chance to visit ZIP house Excellence Center in Fashion and talked with the Director of ZIP house, incumbents, entrepreneurs from Fashion Acceleration Program cohort and Creative Business Cup winners of 2014 and 2019. Also some went to ARTCOR center where we had a representative introducing us into what the center for creative industries is planning for the current year and the next following.
How without intercultural nights? As in the project were 10 countries, every team prepared presentations about their cultures, local drinks and food, and some of them gave souvenirs.